The best Knee Pillow in Australia. Relieve hip and lower back pain when you sleep!
Knee Pillow Australia
Australia's Original Knee Pillow store, with trusted product quality and customer service. Our knee pillow keeps your legs and spine aligned to help reduce lower back pain and sciatica, by providing maximum support and comfort. If you are recovering from an injury or have an elderly parent, we've got you covered. This knee pillow helps to resolve all the complaints associated with these issues and more.

As a side sleeper, you don't sleep perfectly straight. Your top leg drops in front of you putting pressure on your back, your hip joints twist & your knees touch, causing pain and discomfort. Our knee pillow is the best leg cushion for those looking for relief as the cushion comfortably supports your legs & knees to provide proper sleeping alignment & positioning to eliminate those painful pressure points. Gain fast immediate relief from lower back pain, by snuggling into this comfy knee pillow. Designed with revolutionary airflow channels to ensure you experience a comfortable pain-free sleep.


Your Comfort is Our No 1 Priority
With its innovative, low-pressure design, our knee pillow also offers a speedy recovery time, for athletes who have suffered spinal injuries or sprains, as well as other associated hip and knee injuries. Our knee pillow fits comfortably between your knees and provides maximum comfort and support to relieve sciatica pain, back pain and pressure on the lower back.

If your partner is pregnant and suffering from the myriad of health issues brought on by pregnancy, then the knee pillow will be her new best friend. Our knee pillows, offer relief from pregnancy-associated lower back pain, poor blood circulation, and posture issues, making it a welcome addition to the bedroom or living room. After the baby is born, they also offer much additional comfort and support while breastfeeding.

Gift the knee pillow to a grandparent or elderly parent and watch their faces light up with joy and relief. As our knee pillow, provides zero restriction of blood flow and provides additional comfort and support, allowing them to experience trouble free, supported sleep.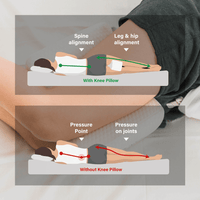 Our Knee pillows, offer free movement and promotes better circulation.
If you've been struggling with lower back and hip pain and resorted to using your standard pillows, for additional support between your thighs, when sleeping on your side. Then rest assured, the knee pillow was created for this exact purpose.

While the market is flooded with cumbersome designed "leg spacer" pillows. Those pillows are oversized, overweight and cumbersome to the position in bed. They fail to give you that much-needed support and more importantly that much-needed pain relief.

Often you'll find they overheat, and make it impossible to move around and get comfortable.
Buy Now
THE BEST KNEE PILLOW EVER!
Our knee pillow is designed for maximum comfort, to ensure you experience a comfortable, uninterrupted night's sleep so your body can heal. 
The knee pillow is soft and supportive, giving you a welcoming feel that stays comfortable in any position while providing a liquid-like quality that contours to your body, aligns your spine and improves circulation.
Its spongy flexible design ensures not only comfort but also maximum support, it is designed to fit comfortably between your knees and is so small many of our satisfied customers also take their knees pillows travelling with them.
SHOP NOW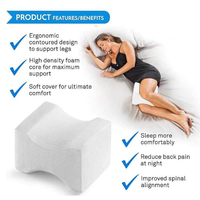 Let customers speak for us